What It Means to Be SAP Certified
What It Means to Be SAP Certified
By Omar Gettani
SAP partners build innovative applications that integrate with SAP® technology in order to meet the business and IT needs of SAP customers. A successful integration requires not only a broad and comprehensive understanding of software infrastructure and compatibility, but also a deep understanding of the existing SAP solution currently in use.
As an SAP customer, how can you ensure that the application you are using is risk-free and technically aligned with SAP technology? My recommendation is to look for applications that have achieved "SAP Certified" status.
View all partner apps with SAP Certified status on SAP App Center
To be SAP Certified, an application must prove interoperability with SAP applications following SAP technical best-practices and guidelines. It is also important to note that the SAP Integration and Certification Center (SAP ICC) and the SAP partner must jointly test the technical integration of the solution. The SAP partner and SAP ICC consultants work together thoroughly to ensure appropriate integration methods and tools, security, performance, and documentation are used and adhered to. After a solution has been successfully tested and approved, it is then denoted as SAP Certified.
Why is SAP Certification Important and How Does It Benefit You?
Lower Costs
SAP customers save costs related to lengthy and laborious implementation of a third-party product and consequential upgrades.
Added functionality
SAP customers gain choice of a broad range of solutions that either extend SAP functionality and/or run on SAP solutions.
Customer protection
SAP certification protects customers against low-quality integrations while it serves to ensure a high-quality SAP ecosystem of partners that contribute to the comprehensive value proposition and innovation sources for SAP customers.
Supportability
Usage of solutions that are certified for integration with SAP solutions, follow SAP standards for technical integration, and, if re-certified on a regular basis, can allow for upgrades with minimal interruptions.
Technical alignment of certified solutions with SAP solutions.
Technical enablement
Through the SAP ICC, vendors receive essential enablement and consulting services to quickly ramp-up on SAP knowledge, as well as test system access needed to ensure that the software meets certification criteria.
The SAP ICC keeps certification scenarios up-to-date with the newest SAP technology. Therefore, certification is valid for a limited time, after which the vendor must re-certify their product to ensure it is in line with the most recent SAP technology.
Safety
While use of SAP recommended integration technologies and the stable interfaces prerequisite for certification addresses many potential security issues, vendors can obtain written confirmation from the SAP ICC that a given software package has been scanned successfully for certain code vulnerabilities.
Easier implementation effort
Since solutions that have been certified for integration have been pre-tested, customers may benefit from accelerated integration projects that can be up and running, out-of-the-box.
During the certification process, SAP expert assess and test the application's deployment, integration or adapters within an SAP software environment. Because it is pretested by the SAP ICC, software with certified integration is typically more stable and easily upgraded.
Pre-tested integration
Integration testing made by customer personnel can be less rigorous since integrations will already be pre-tested by SAP.
How to Identify an SAP Certified Solution?
It is easy to identify if a solution on SAP App Center is certified. Just look for the "SAP Certified" stamp located on the bottom of the icon describing the solution.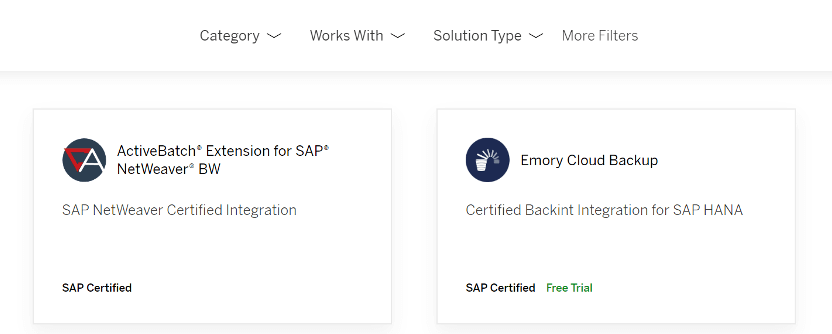 After going to the individual product pages, you can also scroll to the Technical Information. There it will note if a solution is certified under the Certifications category. Of course, that is if the solution is SAP Certified.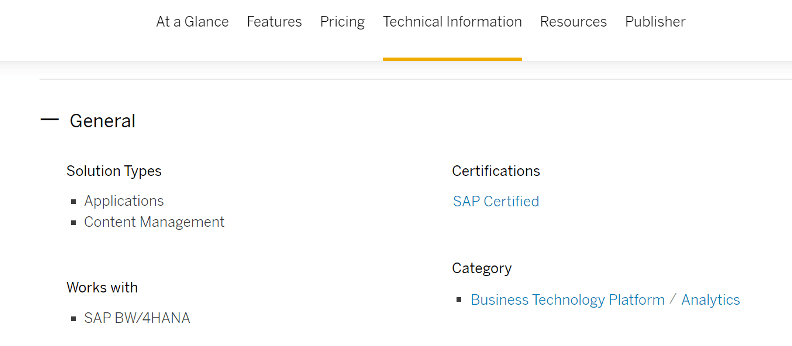 Alternatively, if you are on the SAP App Center site and would like to search for only SAP Certified solutions, the best way to do so is to select Certification in the filter categories and then check SAP Certified. By doing this, all SAP Certified solutions will appear.

Lastly, If you would like to review details of the certified scope of a particular partner solution, please visit www.sap.com/csd and search for the solution that you are interested in purchasing through SAP App Center.